Kyiv or Kiev – which spelling is correct?

Kyiv or Kiev? There are different pronunciations and spellings of the capital of Ukraine around the world. There are people who use the form Kyiv. The Russian version is Kiev. Does it mean that both versions are correct? Not necessarily! What is the proper way to say the name of the Ukrainian capital then?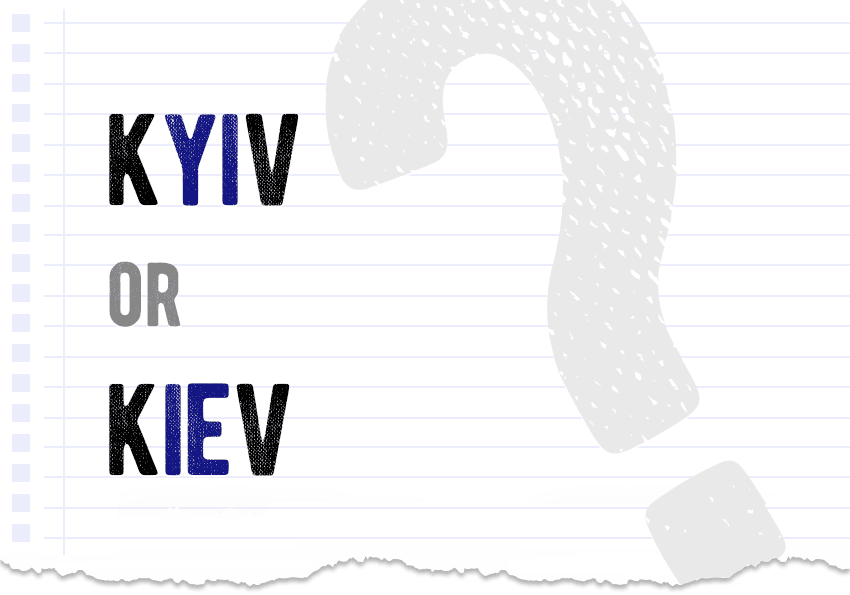 Kyiv or Kiev – which one is the proper spelling of Ukraine's capital city?

Kyiv comes from the Ukrainian language. Kiev comes from the Russian language. Nowadays, avoiding the word Kiev and using the Ukrainian pronunciation instead is much more ethical, keeping in mind that Russia invaded Ukraine on 24 February 2022.
Why does spelling matter for Ukrainians?

The form Kiev was commonly used internationally, but at this point, it really matters for Ukrainians to stop using it. Even the Guardian, the BBC, The Washington Post, The Wall Street Journal, and the New York Times switched the spelling to the Ukrainian variant. Even the International Air Transport Association adopted Kyiv as the preferred spelling.
What should we know about the word Kyiv?

As we already know, Kyiv is the capital (and the biggest city) of Ukraine. Americans and Britons used to call the city Kiev, because it was the standardised spelling under Soviet rule. The name with "ie" continued to be used even when Ukraine declared itself an independent country.
#KyivNotKiev campaign – what is it?

The form Kyiv was approved by the Ukrainian government at the end of the 20th century. What's more, the Ukrainian government mounted a campaign to secure international approval for the name Kyiv. After the Russian invasion, using the form Kyiv became even more important than before. It's worth mentioning that the Ukrainian government promotes using Ukrainian spellings for its other cities such as Lvov, which should be Lviv.
Kyiv or Kiev – why do they differ?

The Ukrainian spelling of Kyiv is linked to Ukraine's present status. The Kiev version is associated with a time when Ukraine wasn't an independent country, but part of the Russian and Soviet states. The difference between Kyiv and Kiev is clearly political. The name Kyiv is used to assert an independent Ukrainian identity.
Can we use different words instead of Kyiv?

Instead of writing the word Kyiv, we can use Kyyiv. "Capital of Ukraine" can also be treated as a synonym of Kyiv.
Kyiv or Kiev – it's all clear! Examples from the international media

As Kyiv struggles to take the initiative, the humanitarian crisis grows.
Destroyed Russian military vehicles have been on display in Kyiv, ahead of Ukraine's Independence Day on 24 August.