An hour vs. a hour — which is correct?

They are essential in some languages, others do not need them at all — definite and indefinite articles. In English, there are two indefinite articles: a and an. The elementary rules governing their use are quite simple; yet, sometimes there arise some doubts. Take for example an hour or a hour.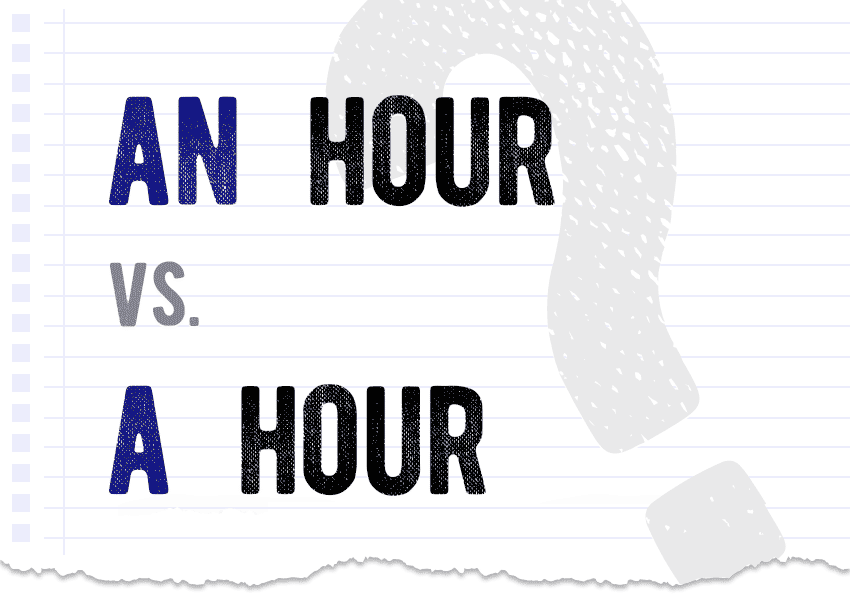 A hour vs. an hour — basic grammar revision

First, we should start with a quick revision, and present the basic rules applied to the indefinite articles, a and an. A is used before a noun which begins with a consonant, an accompanies a noun which begins with a vowel. As simple as that. H is definitely a consonant. Is it not incorrect when it is accompanied with an?
A hour or an hour — which form is incorrect?

Even though the word hour is spelled with H, an is the correct article. This choice is determined by the pronunciation. In case of hour, the H is silent, and the word is pronounced as /aʊər/. Other examples of silent H are words like 'honour' or 'honesty'.
In words like 'hotel' or 'honey', you can clearly hear the sound /h/, so in their case an is the correct article.
An hour and a hour — the riddle is solved, and exemplified by literature

'Don't you just love those long rainy afternoons in New Orleans when an hour isn't just an hour – but a little piece of eternity dropped into your hands – and who knows what to do with it'.

Tennessee Williams, A Streetcar Named Desire, 1947
'Calendars and clocks exist to measure time, but that signifies little because we all know that an hour can seem as eternity or pass in a flash, according to how we spend it'.