Endothermic vs. exothermic – which spelling is correct?

Endothermic and exothermic – some might say "This is Greek to me!" and that person would get a point. The Greek language has a lot to do with the words beginning with -endo and -exo. How to distinguish endothermic and exothermic reactions? Endothermic vs. exothermic reactions – what is worth knowing? Read the text below and learn more!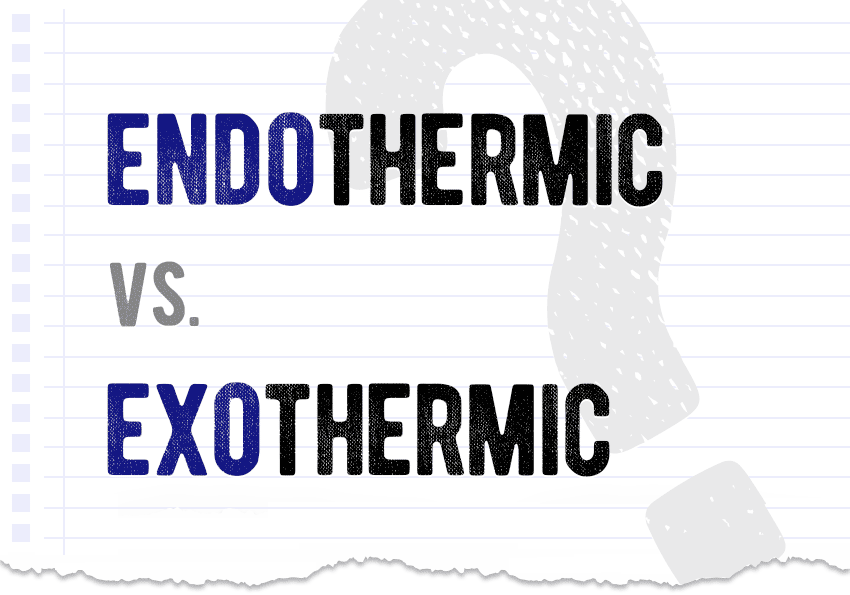 Endothermic vs. exothermic – which form is correct?

Both words exist and have their own definitions, which means that endothermic is the correct form and exothermic is correct form, too. Incorrect form? There isn't one!
Endothermic vs. exothermic. What's the meaning of the word endothermic?

Endothermic is an adjective. There are two meanings of this word. The first one is related to chemistry and it means formed with (or absorbed by) ABSORPTION of heat. The second one is related to zoology, meaning capable of (or or depended on) the internal generation of heat.
What are the examples of endothermic reactions?

An endothermic reaction is a chemical reaction in which energy is absorbed from the surroundings into the reaction. Endothermic means that energy is only absorbed by heat. A great example of this type of reaction is photosynthesis, when plants use sunlight (they absorb heat energy from it) in order to convert water and carbon dioxide into oxygen and glucose. Another endothermic process can be seen in the example of cooking an egg, when heat energy is absorbed from the pan in order to cook the egg.
Exothermic – what does it mean?
Exothermic is also an adjective, meaning formed with (or characterised by) EVOLUTION of heat. To be more precise, when chemical bonds are formed, heat is released in an exothermic reaction. In such exothermic reactions, energy is released from the system into the environment. In other words, exothermic means that energy is released – not only in the form of heat, but also as electricity, sound, or light.
Endothermic vs. exothermic – what's the difference?
Actually, there are a few differences between endothermic and exothermic. We have already mentioned some of them above, such as different forms of energy, so now let's take a look at the words endothermic and exothermic from a linguistic perspective.
Endothermic came from the combination of two Greek words: endo, meaning inside, and thermasi, meaning to heat. The word exothermic, on the other hand, is a portmanteau of two words – exo, meaning outside, and previously mentioned thermasi. When you know the etymology of the words, everything becomes clear.
What are the synonyms of the word endothermic?

Homoiothermic,
heat-absorbing,
endothermal,
oxidation-reduction.
How to say exothermic differently?

Exothermal,
energy-releasing,
heat-releasing,
exoergic.
Endothermic vs. exothermic – it's all clear! Examples from the press

He felt necessary around 10:30 on Friday night, when the atmosphere at the House of Vans skate park had grown flushed, endothermic, droopy.

New York Times, Aug 1, 2011
There is no levelling up, there are no weapons unlocks; it's all about combining the different capabilities – from Mei's endothermic blaster to Mercy's healing staff – in effective ways.

The Guardian, Sep 19, 2019
Because sea turtles are exothermic, they get their body temperatures from their surroundings, like air or water.

Washington Post, Dec 21, 2021
As an investor trying to identify talented leaders, while the exothermic executive quickly lights up the room, it often requires several meetings to begin to appreciate the deep competence and attraction of endothermic executives.