Center or centre– which spelling is correct

Are you wondering whether center is the right spelling? What about centre – does it look familiar too? Your struggle ends here! Read our explanation and learn how to spell this term once and for all.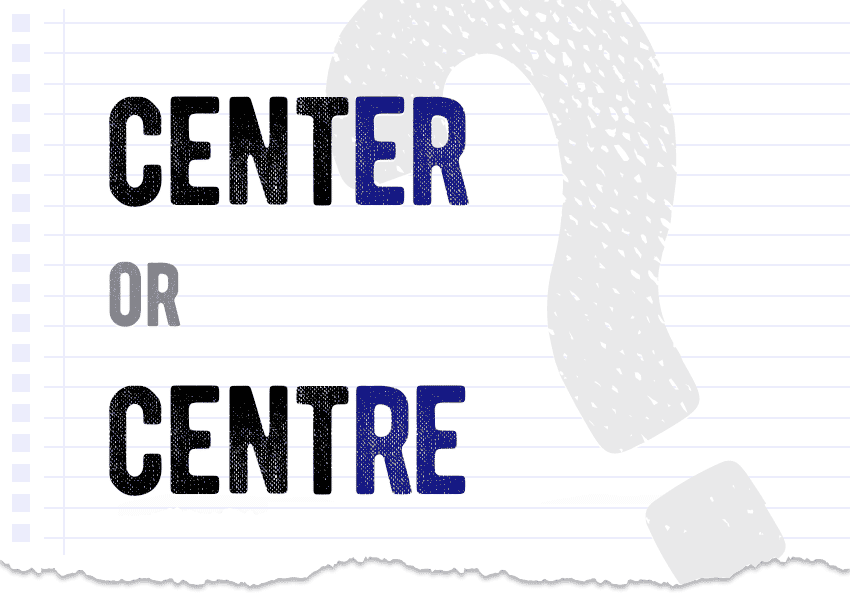 Center or center – meaning

Center or center? Both spellings of this word are correct, and the meaning remains the same. It is a noun which refers to the middle or the most important part of something, as well as a building with a specific purpose, like a "medical center", "call center" or "shopping center". It can be used as a verb to mean "gather" or "focus" as in "center around something". Keep reading to find out why this word has two spelling versions.
The difference between center and centre

The choice between using center and centre depends on where you are or who you would like to reach in the English-speaking world. The spelling center is more popular in American and Canadian English, while centre is preferred in British and Australian English. This is a general division – there are other countries which use the language officially around the world and each of them might have its own conventions.
Center, centre – synonyms

middle,
heart,
focus,
core,
mean.
With all doubts behind us, it's time for one last thing – to see how this word can be used in a sentence.
Sentences with center and centre

His house stood rather far back from the street, in the center of a delightful garden, so that it was quiet and peaceful at the old gentleman's study window.

Kate Chopin – The Awakening (1899)
I had the impression we were walking towards the town centre, though I couldn't be sure.

Kazuo Ishiguro – Never Let Me Go (2005)
And it's normal for your thoughts to center on this subject.

Sharon M. Draper – Tears of a Tiger (1994)